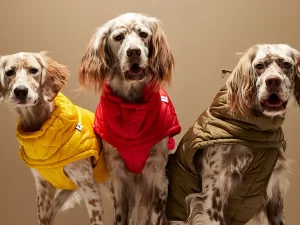 Fashion isn't just for humans; it's for our beloved pets too! Explore the latest trends in pet fashion that cater to your furry friend's well-being and style.
Today, the pet fashion industry goes beyond dressing up your pets in fun outfits. It's about ensuring they live their best lives as cherished members of our families. From modern pet accessories to stylish pet beds that blend seamlessly with your home decor, it's a whole new world for pet lovers.
Pet clothes are no longer just clothes; they're a statement. Top designers now create fashion pieces for your four-legged companions, and you might have even seen them strut their stuff on the fashion runways. It's a declaration of love, care, and personality.
But it doesn't stop at clothes. Pet accessories like hats are both fun and functional, keeping your pet warm and cozy during colder months. And speaking of winter, padded vests, knitted sweaters, and tweed coats are here to keep your pets snug and stylish.
For the sophisticated ones, bow ties are a must-have. Your pet can be a fashion icon no matter the occasion! Sweatshirts with hoods are all the rage, giving your pup that streetwise edge.
Want to turn heads? Metallic finishes, especially in gold, are the way to go. And there's nothing cozier than an oversized chunky knit jumper you and your pet can both enjoy.
Don't forget the practical raincoats that keep your pet dry and fashionable on drizzly days. Pet fashion has become a valuable trend, with tailor shops, specialty stores, and global brands leading the way.
In a world where pets are cherished as family, pet fashion is the ultimate expression of love and care. Get ready to indulge your furry friends in exclusive and irresistible styles, because they deserve it all! 🐶👗✨