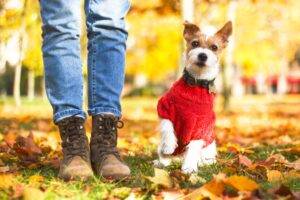 Your pup isn't just a pet; they're a cherished member of the family. And just like family, we want to make sure they're safe, comfortable, and looking their best. That's where dog clothing comes in – it's more than just a cute outfit; it's a practical necessity that can make a world of difference in your dog's life.
1. Weather Protection: Keeping Your Buddy Cozy
Picture this: It's a chilly winter morning, and your pup is shivering during your morning walk. Dog sweaters and coats aren't just adorable; they keep your furry friend warm and toasty in cold weather. And when those summer rays are scorching, sun shirts with UV protection keep them safe from the sun's harsh glare. It's like a hug they can wear!
2. Safety on Adventures: Outdoor Fun with Peace of Mind
We love taking our dogs on outdoor adventures, but safety comes first. Reflective vests and jackets ensure your dog stays visible even during those twilight walks, reducing the risk of accidents. Plus, clothing protects them from those pesky ticks, burrs, and thorns that can make outdoor playtime less fun and more ouch!
3. Healing and Comfort: Recovery Made Stylish
Life throws curveballs, and sometimes our furry pals need a little extra TLC. That's when specialized dog clothing comes to the rescue. It covers and protects surgical incisions, dresses wounds, and provides joint support – all while keeping your pup comfy and looking good.
4. Allergen and Irritant Defense: Happy Skin, Happy Dog
Just like us, dogs can be sensitive to allergens and irritants. Clothing acts as a barrier, shielding your pup from pollen, dust, and irritants like poison ivy and lawn chemicals. No more itchy, scratchy pups!
5. Less Shedding, Less Allergens: Breathe Easy
If allergies are a concern, you'll love this. Dog clothing can help control shedding, keeping your home cleaner and reducing allergen spread. Breathe easy and snuggle with your furry friend without worrying about allergies.
6. Style That Matches Their Personality: Because They're Unique!
Lastly, let's not forget the fun part – style! From holiday-themed outfits to everyday chic wear, you can express your dog's personality and show off their unique charm. Who doesn't love a well-dressed pup?
So, fellow dog parent, next time you're shopping for your beloved furry friend, remember that dog clothing is more than just a fashion statement; it's about their comfort, safety, and health. Treat your pup to some stylish and practical gear and watch them strut their stuff with confidence and joy. After all, a happy dog is a well-dressed dog! Check out our eshop for the perfect dog clothing options that blend style and function seamlessly. Your pup will thank you with tail wags and extra cuddles!